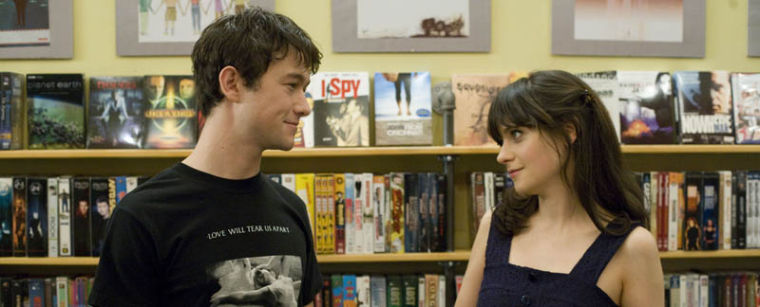 Note: I couldn't find pictures with the same size and I don't know how to edit for the life of me so you'll just have to bear with me. Sorry.
I made a new year resolution to watch more romcom movies this year and finally, six months into the year, I acted on that resolution. A prime difference between these movies structure-wise would be that While You Were Sleeping would probably be considered a chick-flick while (500) Days of Summer would…not be. What really separates these two movies would be the aimed audience. Or maybe it's the method each movie uses to appeal to their audience that separates them. 500 Days of Summer was a romance very clearly written by a man. I don't mean that in a bad way. It's just that the main guy character feels especially real. His perspective of love and the way he views Summer and his relationship with her showcases how love can be difficult for men. Which you don't see a lot in romantic comedies. Probably because it's a market for women and why would a woman want to see a romance movie with a guy that struggles to find love? That was sarcasm. While You Were Sleeping was also written and directed by only men, which is also obvious but for different reasons. While You Were Sleeping panders. It's the kind of love story the writers and directors to this film think women would want. (500) Days of Summer is lot more about creating a love story out of one's on own experiences. Who's the targeted audience for 500 Days of Summer? I don't really know. I could imagine anyone past the age of 15 enjoying it to be honest. That's because it wasn't trying to appeal to anyone it was just trying to tell a story that would feel real. Even at the beginning the movie makes a joke "If any of this seems familiar to your own life then it's probably a coincidence. Even you, [i forgot the name used]. Bitch"- that's a loose quote, but you already know this is the type of romance that's not a self insert fantasy, but one that you'll probably find a way to relate to. You get that from one small joke at the very beginning.
Yeah so While You Were Sleeping tries very hard to get women to watch it. You have this nerdy woman who has no family and lives alone with her cat. She thinks she's in love with a guy she's never even actually talked to and over time she actually falls in love with another guy. Lucy doesn't really make choices except for when she saved the guy she thought she was in love with despite never talking to him at the beginning of the movie. Everything else just kind of happens to her. She didn't mean for the guy's family to assume she's the guy's fiance, that was the nurse. The family forces her to spend Christmas with them. When the guy wakes up from his coma and when he can't recognize Lucy and everyone thinks he has amnesia Lucy just goes along with it. She doesn't make any decision of her own until the wedding. She waits until the wedding of the guy she's not even actually engaged to-to finally make her choice in the movie. While You Were Sleeping was meant to be a self insertion romance. They want the viewer to be able to fit the shoe of the main character. It's every woman's fantasy, to be accidentally engaged to a handsome guy, or to unexpectedly fall in love without actually doing anything to pursue the relationship yourself and okay I'm being really harsh on this movie right now. While You Were Sleeping wasn't a bad movie. A lot of what I just splurged applies to chick flicks in general. While You Were Sleeping isn't a bad movie, it's just a stupid one.
(500) Days of Summer on the other hand was definitely not a self-insert kind of story. Have there been similar relationships to the one in this film? Absolutely. And that's kind of the point considering it's meant to feel relatable, but there's also a sense of uniqueness to the story and the writing is good enough that this relationship feels genuine-it's not an easy copy and paste formula. The writing. The execution. It made the story feel like someone's own personal experience.
As for the comedy aspect in these two romantic comedies, Summer's was really good. I laughed out loud a number of times. The humor in While You were Sleeping was corny and not very good.
Something I'll give both movies credit for would pacing. Both of these movies had really good pacing. Neither of them ever felt like they were too long at any point
I've talked about the main characters, the humor, and pacing of these movies. But what about the actual romance within the movie? The romance wasn't bad in either of these movies. While You Were Sleeping was a story about 'the chase'-how they got together, while (500) Days of Summer is story that is looking back at a failed romantic relationship. So it's obvious the romance in each movie will be very different just by that. The romance between the characters in While You Were Sleeping was extremely average. It did the bare minimum. There was a sense of chemistry, but it was small. The characters are just so bland that it's hard to really care about this romance. Why did they fall in love? I don't even know the answer to that. Maybe it was because the characters could relate to the one thing they had in common, that they were unhappy with their current job but both felt as if there was no alternative, that it was too late to choose another career path. That's the only thing they had in common on screen. The romance felt like a relationship that happened out of coincidence. Neither of them really did anything to pursue each other it just fell in place for them. (500) Days of Summer, had a relationship that felt as if it was about to all fall apart at every corner. It was a relationship that was constantly trying to be kept intact. Especially by the main character. What I really liked about (500) Days of Summer was that it was easy to see why the two characters liked each other while also making it easy to see why the relationship wasn't going to work , and did this without leaving either of the characters looking stupid or sleazy.
The last thing I want to talk about is the final verdict of each movie. They both had pretty solid endings. Unsurprisingly, 500 Days of Summer's was better. Both endings were satisfying and left you with a feeling of completion. While You Were Sleeping does this to the bare minimum. 500 Days of Summer, however, leaves you feeling something even after the movie is over. It has a sweet and hopeful after taste. I felt happy after finishing it. After While You Were Sleeping I felt nothing.
So yea if you couldn't tell (500) Days of Summer is the better movie of the two. I'm not sure if I'll continue to do compare two movies in one post, but I'm planning on talking about romance movies more on this blog. I'm trying to balance out how much I talk about romance anime and western romances because as of right now I talk about anime waaay too much on my blog that's supposed to cover all romances. Anyways if you haven't seen (500) Days of Summer then I would seriously recommend giving it a watch.
find my original post here